Bitcoin has the all-time highs in it sights with another run higher as hard forks also gain. SHIB saw a big rally on more Musk tweets but whales
BTC
The Bitcoin price soared again as the coin headed for $57,500 on Monday. With a 5% gain to start the week, BTC is now eyeing the $60k level and a potential run to the all-time highs around $64k.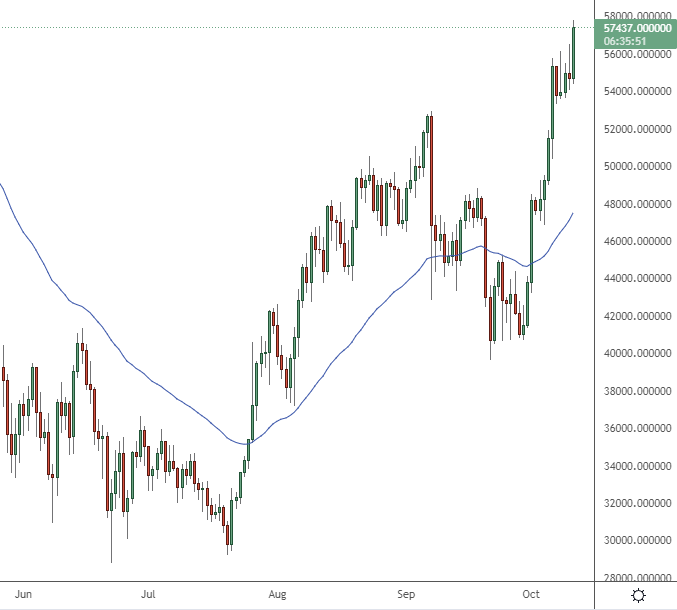 Bitcoin is getting a boost with the surge in commodity prices as oil tops $80, aluminum hits a thirteen-year high and rising gas prices pressure European countries. 
The CEO of trading exchange Bitmex has also suggested that other developing countries could follow El Salvador into Bitcoin adoption. Alexander Höptner said: 
My prediction is that by the end of next year, we'll have at least five countries that accept Bitcoin as legal tender. All of them will be developing countries.
According to Höptner, these nations will adopt Bitcoin faster due to three factors: the growing need for cheaper and faster international remittances, high inflation, and politics.
Consumers in developing economies are also more affected by issues relating to cross-border payments and inflation, Höptner said.
The CEO noted that remittances were 20% of El Salvador's gross domestic product in 2020, while the World Bank said that low- and middle-income countries receive about 75% of total global remittances. Hoptner also pointed to inflation, where countries such as Turkey are adopting the crypto theme amid a 19.2% inflation rate.
BTC will see resistance around the $60k level as it looks to retest the all-time highs.
BCH
The Bitcoin Cash price got a boost from the gains in BTC as all of the related coins tracked the strength of the world's most valuable crypto project.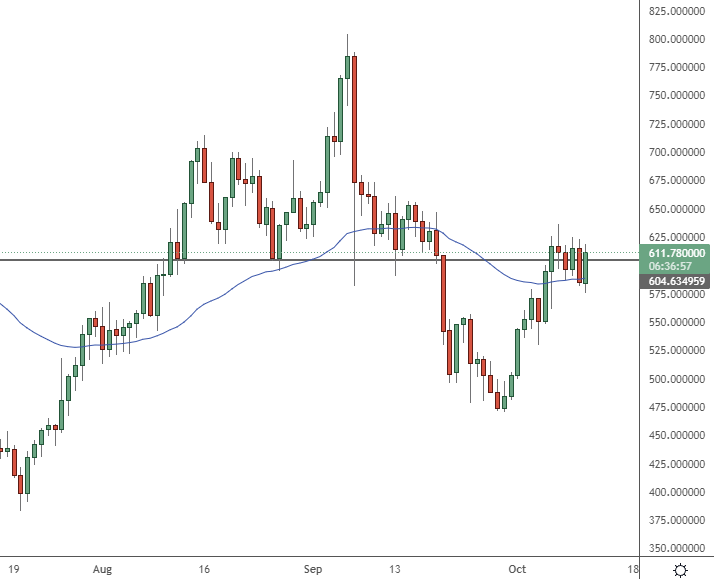 BCH recovered from some Sunday selling and has tracked the 5% gains in BTC to trade at $612. Bitcoin Cash saw highs at $800 back in May but is looking to recover some of the pullback. The coin was previously weighed down by a high-profile spat between the founders of Bitcoin SV over which hard fork of Bitcoin is more relevant. That seems to have settled down recently and may help the coins find further investor support.
But one investor, billionaire Bill Miller was more skeptical of altcoins due to Bitcoin's maturity. He said:
Bitcoin is a lot less risky at $43,000 than it was at $300. It's now established, huge amounts of venture-capital money have gone into it, and all the big banks are getting involved.
The investor added:
There are 10,000 various tokens and stuff floating out there. The chances of more than a handful of them being worthwhile is very, very small. Bitcoin, ethereum, and a few others are probably going to be around for a while.
Miller also spoke about the Coinbase exchange and said that the business could exceed the valuation of Tesla one day due to its dominance in a "rapidly growing, changing…


Read more:Bitcoin Price Soars Above $57k as Investors Seek Inflation Hedge, BCH, BSV, SHIB, Oct